Living Information ( English )
 This webpage introduces the programs of the International Division, K.P.G., for the foreign residents, and living information for them.
Multilingual Support Center Kanagawa
Multilingual Support Center Kanagawa was established to offer information in multiple languages aiming to create an environment where foreign residents and visitors can stay with a sense of security and safety.
(Grand opening: Mon., June 20, 2016)
Announcement of grand opening of Multilingual Support Center Kanagawa [PDFファイル/1.32MB]
K.P.G. provides counseling services for foreign residents at three locations of Yokohama, Kawasaki and Atsugi in the prefecture.If you have any worries about job, housing, education, pension, etc., you can freely come to receive counseling.
List of the Counseling Services for Foreign Residents [PDFファイル/57KB]
"Hello Kanagawa" is a newsletter issued by K.P.G. to provide living information for foreign residents.
It is issued three times a year in Six languages (English, Chinese, Korean, Spanish, Portuguese,and Vietnamese). All versions have Japanese texts, too.
You can obtain the newsletter at the prefectural offices, the municipal offices for alien registration and counseling services, Yokohama District Immigration Office of the Tokyo Regional Immigration Bureau, and the international exchange associations in the prefecture.
Earth Festa Kanagawa is a festival held for the realization of harmonious multicultural society. Ethnic groups, NGOs, citizen volunteers, etc. in the prefecture work in cooperation from the planning stage to hold this event.The festival aims to create opportunities for people of different nationalities and cultures to get together, meet, introduce their cultures and ways of thinking, and to understand each other.
In all the programs, we intend to create occasions where many foreign nationals can participate.
Website of Earth Festa Kanagawa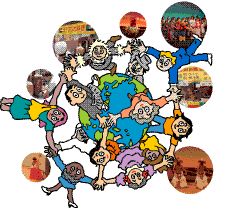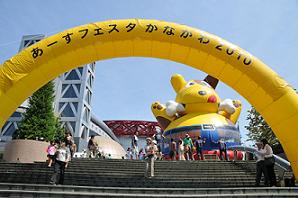 When foreign residents of Kanagawa need interpretation services in their daily life, K.P.G. arranges a volunteer interpreter. This service is available only for public services, such as an interview with a teacher at school and counseling at an administrative institution.
We are recruiting volunteer interpreters who can cooperate for the Program.
Languages available
English, Chinese, Korean, Spanish, Portuguese, Tagalog, Thai, etc.
Fee
As a rule, applicants need to pay 3,000 yen for each service.
Inquiries and application
General Interpretation Service, Kanagawa Kenmin Center 13th Floor Tel: 045-317-8813 
K.P.G. and the municipalities in the prefecture are operating a system with the Multi-language Information Center Kanagawa (MIC Kanagawa) to dispatch volunteer medical interpreters in cooperation with the Kanagawa Prefecture Medical Association, Kanagawa Hospital Association, Kanagawa Dental Association and Kanagawaken Pharmaceutical Association. Under this system, volunteer interpreters are dispatched to the List of 37 cooperating medical institutions within the prefecture by request through coordination by MIC Kanagawa.
Languages available
Chinese, Korean, Tagalog, Portuguese, Spanish, English, Thai, Vietnamese, Lao ,Cambodian and Russian (11 languages)
Expenses
It costs 3,000 yen for the medical institutions to use the interpretation service one time for three hours. At some hospitals, patients are required to shoulder part of the expenses. How to make an appointment for the interpretation service is different by hospital.Please contact the medical counseling service of the hospital to visit beforehand in Japanese.
List of the cooperating medical institutions (in Japanese) 
Volunteer medical interpreters wanted
Medical interpreter dispatching system invites application for volunteer interpreters every year. For inquiries, directly contact MIC Kanagawa or International Division, K.P.G. in Japanese.
This system aims to solve housing-related problems that foreign people are faced with, such as difficulty in finding housing due to language barrier. In cooperation with the organizations concerned, various services are offered under the system, including introduction of real estate agents that provide services for foreign people, counseling on troubles after moving in, and dispatch of volunteer interpreters
For Counseling on Housing, etc.
KanagawaHousing Support Centerfor Foreign People
This is the core of the Housing Support System. The Center introduces the real estate agents registered as "Housing Support Agent for Foreign People" that provide services to foreign people, gives counseling on troubles after moving in, and dispatch volunteer interpreters.
Inquiries
Yokohama YMCA 2nd Flr., 1-7 Tokiwa-cho, Yokohama City Tel: 045-228-1752

"Housing Support Agent for Foreign People"
Under this system, real estate agents* that provide services for foreign people are registered as "Housing Support Agent for Foreign People". Real estate agents, if agree with the objective of the system, make application to K.P.G. for registration.
* The real estate agent to be registered must be the member of one of the following organizations: Kanagawa Real Estate Association, All Japan Real Estate Association Kanagawa Chapter, or Japan Property Management Association Kanagawa Chapter
 The following is the list of Housing Support Agents for Foreign People. (Information on the agents which agreed to be posted on the website) (in Japanese)
Multilingual information on housing
Multilingual information on the rules of renting housing and manners of living is available here.
Multilingual Information List
Housing Support Network for Foreign People
For smooth operation of the Housing Support System, real estate associations, ethnic organizations, international associations, YMCA, Kanagawa Housing Support Center for Foreign People, and the local governments (K.P.G., Yokohama City and Kawasaki City) joined together to form a Housing Support Network for Foreign People.
Human resources development program for reception of Muslim people
As a collaborative program with Keio Research Institute at SFC, which has knowledge on Muslim treatment, we will nurture human resources to receive Muslim people in a proper manner aiming to attract more Muslim tourists. We will also conduct research and study to promote creation of a society where people of diverse cultural background can live together in harmony.
Muslim-friendly Restaurant Guidebook in Kanagawa (English)
on the website of Keio Research Institute at SFC
Domestic Violence (D.V.) / Stalking 
Residency Management System, Status of Residence and Naturalization
When inquiring,please note that contents and responsible sections of the following information are of the time of their issuance.
You can find medical institutions where foreign language service is available with the Kanagawa Medial Information Search System, though the information provided on the webpage is in Japanese.