"Healthcare New Frontier" Promotion Headquarters Office (English page)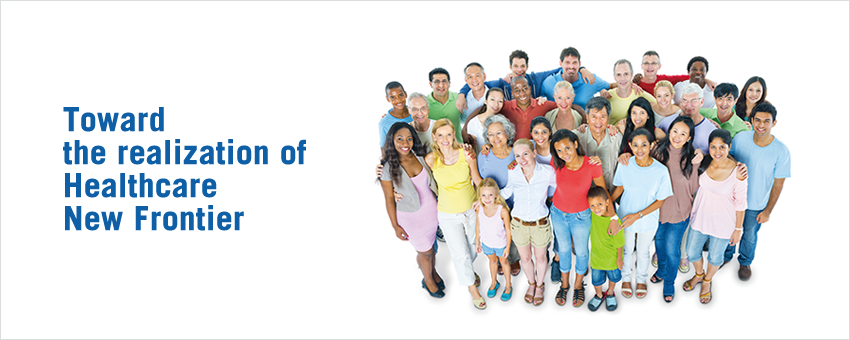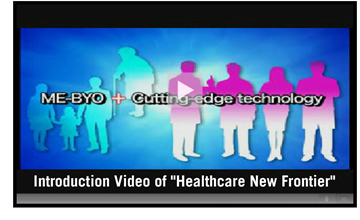 Healthcare New Frontier (HCNF) Policy is a group of new policies developed by the Kanagawa Prefectural Government (hereinafter called Kanagawa) so that everybody can live a long and healthy life in spite of the severe social changes resulting from the advent of the super-aged society.
Super-Aged Society Causing Sudden Change in Population Structure
The advance of old-age society is a common concern among industrialized nations, with Japan experiencing the most rapid advance of old-age society. Especially in Kanagawa Prefecture, old-age society is advancing at an amazing pace, nearly fastest in the nation.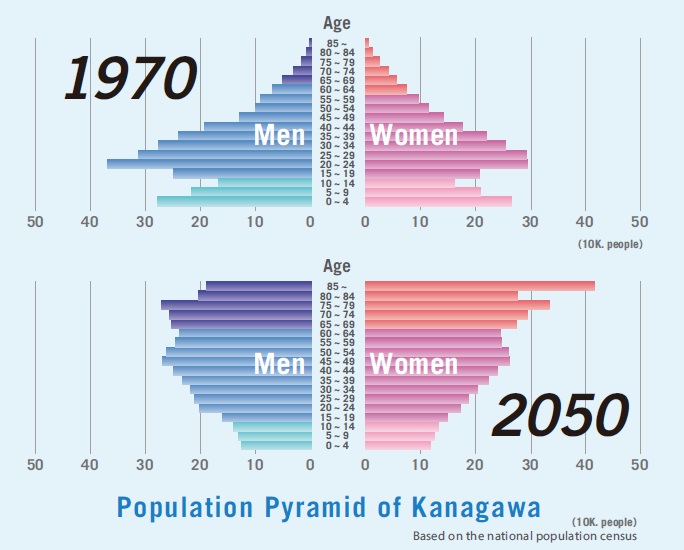 ※It can be shown clearly that while the 1970 population distribution graph for Kanagawa Prefecture resembled a pyramid, by 2050, the graph will resemble a reverse pyramid.
Based on the national population census.
Problems Arising from Changes in Population Structure
The current social (welfare) system with the working generation supporting elderly citizens will not be sustainable with the unprecedented changes in social structure demonstrated by the change in the population pyramid.
Dual Approaches to Solve the Problem
Kanagawa Prefecture will promote the HCNF Policy in order to address the problem. HCNF Policy consists of two approaches, a) pursuing cutting-edge medical treatments and technologies, and b) curing ME-BYO (defined below).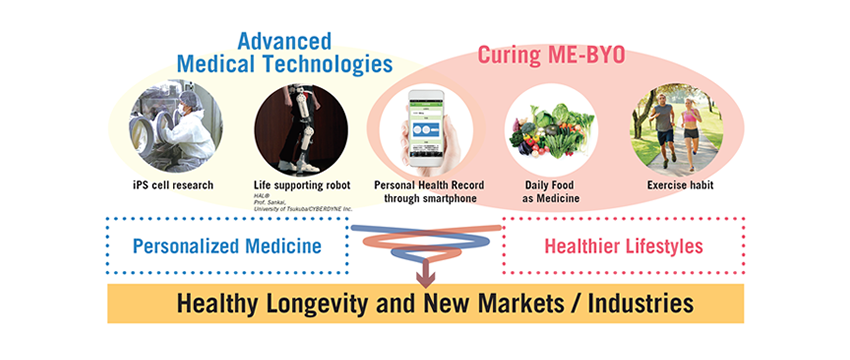 (1) Curing ME-BYO

Instead of clearly defining our physical and mental condition as being either healthy or sick, under the concept of ME-BYO, the mental and physical conditions evolves continuously between healthy and sick states, and ME-BYO applies to all conditions between being "healthy" and "sick."
Hence, in order to stay physically and mentally healthy, it is important for individuals not to wait until they become sick to take action. Rather, it is important for individuals to monitor closely their "ME-BYO" condition in daily life and take active steps to improve and maintain their physical and mental condition. Such policies to stimulate changes in awareness and behavior patterns are being promoted.
(2) Advanced Medical Technologies
For people in need of treatment after realizing personalized medical treatment, it is important to provide the most appropriate and effective treatment at an early stage. Japan has numerous basic research achievements such as for IPS Cell, but it is said that turning the research results into products for practical application is slow compared to the West.
Hence, Kanagawa Prefecture will promote steps to quickly turn the results of these basic research into medicine, medical equipment, and regenerative medical products for practical application and industry.
The objective for combining the two approaches will be to prolong healthy long life, open up areas for cutting-edge medical treatments and develop a new business model for the advanced medical industry as well as the ME-BYO industry.

To promote the initiatives to implement "Healthcare New Frontier", which aims to bring the longest healthy life expectancy of Japan to Kanagawa and to create new market and industry, by integrating two policy approaches of pursuing the most advanced medical technology and curing ME-BYO.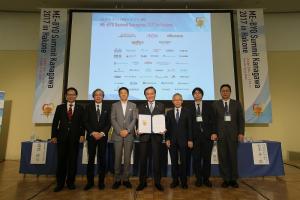 Introduction of our initiatives against to the development of Life Innovation in Keihin Coastal Areas, where massive deregulations are permitted in the special zones.
The policy package "Healthcare New Frontier" and ME-BYO are explained here.

Association for ME-BYO Industry Creation (In Japanese)
Promotion of Keihin Coastal Area Life Innovation Comprehensive Special Zones (In Japanese)
Kanagawa Industrial Promotion Center
Contacts
Contact details for each section.
Section Name
Telephone
What we do
Cooperating with Special Zones
+81-45-210-3265

・Plan comprehensively and adjusts matters concerning Healthcare New Frontier Promotion Headquarters Office.

・Promote Keihin Coastal Area Life Innovation Comprehensive Special Zones and National Strategic Special Zone.

ME-BYO Industry

+81-45-210-2715

・Proceed ME-BYO industry.

・Promote ME-BYO Summit and ME-BYO Month.

Next-generation social system
+81-45-285-0778

・Plan a next-generation social system.
・Promote efforts for "living labs".

・Plan strategic public relations.

Healthcare ICT

+81-45-285-0196

・Proceed Healthcare ICT industry.

・Promote CHO (Chief Healthcare Officer) Concept.

Cutting-Edge Medical Technology

+81-45-285-0187

・Proceed cutting-edge medical technology.

・Proceed Healthcare Robotics.

Global Strategy

+81-45-210-2725

・Promote Life Science industry globally.

・Proceed Cooperation with WHO(

World Health Organization).

Health Innovation School

+81-45-285-0777

・Prepare for Establishing Health Innovation School (Graduate School of Health Innovation, Kanagawa University of Human Services) *tentative name
Prefectural Government Contacts
Tel +81-45-210-3265
Fax +81-45-210-8865
Address 1Nihon-odori, Naka-ku, Yokohama-city, Kanagawa-ken, 231-8588, Japan