CHO (Chief Healthcare Officer) Concept
CHO (Chief Healthcare Officer) Concept
Under the CHO concept, enterprises and organizations will establish the position of an executive manager with the responsibility for promoting the health of employees and their dependents.
The proposed CHO will be an executive manager to promote employee health management, the so-called corporate health management, with the goal of improving harmoniously, management indicators that result from raising labor productivity, the degree of satisfaction with health, and reduction of medical expenses. Through these health related measures, the CHO will help improve the performance of the entire enterprise and contribute to raising the corporate value.
CHO Concept Promotion Consortium
Kanagawa, in order to spread widely the CHO concept to corporations and organizations, started a review system named "CHO Concept Promotion Consortium." The consortium is made up of enterprises practicing healthy management jointly with the prefecture, ICT enterprises, health service related enterprises, universities, and local (cities, towns and villages) governments.
The CHO Concept Promotion Consortium has been making detailed reviews of such matters as proposals for spreading the CHO concept, measures for utilizing health data, and effective ways, to encourage employees and others, to adopt initiatives for promoting health.
Currently, 114 enterprises/organizations are participating. (As of November 13, 2015)
CHO (Chief Healthcare Officer) Concept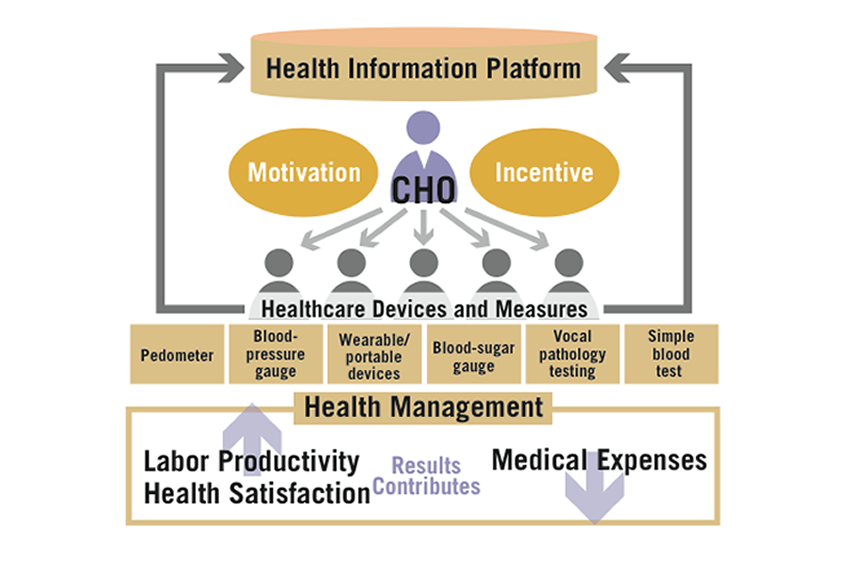 Prefectural Government Contacts
Tel +81-45-285-0196
Fax +81-45-210-8865
Address 1Nihon-odori, Naka-ku, Yokohama-city, Kanagawa-ken, 231-8588, Japan