Initiative for Medical and Engineering Collaboration
Medical Engineering
National Strategic Special Zones
It is said that entry into the medical instruments industry is difficult because of regulations set by the Pharmaceutical and Medical Device Act, and because the industry affects directly human life. On the other hand, the market is expanding and once the supply of medical instruments/material is completed successfully, steady long term orders can be expected.
Hence, efforts currently are being made, nationally and locally, throughout the nation to link market needs of medical (clinical) practices and innovative technologies owned by industries, as well as to advance medical and industrial collaboration initiatives that strive for the development of advanced medical equipment and component materials.
Kanagawa received the designation for three "Special Zones." These are: first, "Keihin Coastal Area Life Innovation Comprehensive Special Zones" to promote the integration of global industries in the life sciences field, and second, "Sagami (area) Robotics Special Zone" where highly skilled small and medium-sized enterprises, as well as innovative venture industries, can collaborate. The third zone is the "National Strategic Special Zone" where bold regulatory relaxation can be applied to create new technology and innovative products.
By utilizing these special zones, Kanagawa is promoting the "Medical and Industrial Collaboration" initiative. The initiative attempts to connect the demand manifested in medical (clinical) practices with the manufacturing skills of small and medium-sized enterprises in Kanagawa, thereby creating advanced medical equipment, solving challenges faced by medical (clinical) practitioners, and encouraging the entry of small and medium-sized enterprises in Kanagawa into the life-science field.
Diagram of Medical Engineering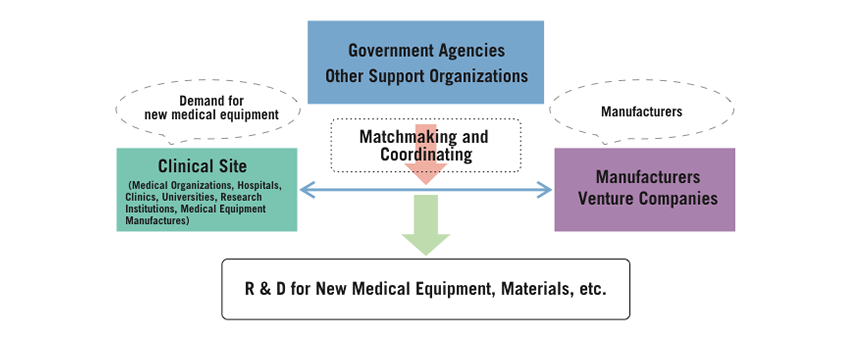 Prefectural Government Contacts
Tel +81-45-210-3265
Fax +81-45-210-8865
Address 1Nihon-odori, Naka-ku, Yokohama-city, Kanagawa-ken, 231-8588, Japan