GEOGRAPHY, CLIMATE,POPULATION AND HISTORY
GEOGRAPHY, TOPOGRAPHY, CLIMATE AND POPULATION
■ KanagawaPrefecture is located almost in the center of the Japanese Archipelago, sharing a boundary with Tokyo. It is 2,416 sq. km in area, making it the fifth smallest of the 47 prefectures in Japan. Blessed with beautiful natural assets, Kanagawa boasts an extended coastline to the south and lush mountain ranges and lakes in the west. The climate is moderate due to the warm current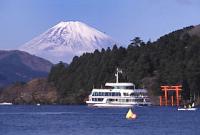 running along the Pacific side of the archipelago.
The population is about 9.05 million, which is the second largest in Japan. Kanagawa Prefecture has already become an aged society. Its total fertility rate has been decreasing, and it is expected that this trend of a society with a larger number of senior citizens and a smaller number of children will continue in the future, too. On the other hand, the number of foreign residents is about 170,000, the fourth largest in the country.
HISTORY
■ Kanagawa has played a major role in the significant periods in Japan's history. The first began in 1192, when the first military government was established in Kamakura. This made Kanagawa the center of the Japanese political scene. Zen Buddhism that prospered in this period had a great influence on the Japanese culture and society in the ensuing periods.
The second period commenced in 1859, when the Port of Yokohama was opened to the world after more than 200 years of strict national isolation. Since then, Kanagawa became the gateway for the introduction of Western civilization.
The third period was the 1950s, when the Japanese economy was being reconstructed after World War II. During this period, along with the development of the Keihin Industrial Belt, Kanagawa played a significant role in rebuilding the war-devastated Japanese economy.
INTERNETIONAL EXCHANGE
■ Kanagawa Prefecture has been conducting exchange programs mainly with the eight regions* of the world in broad areas such as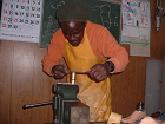 economy, education, culture and sports. It has been also developing cooperation projects like receiving overseas technical trainees.
Kanagawa Prefecture intends to strive to solve common global problems, such as environmental issues, from the regional level with the cooperation and alliance of NGOs, NPOs, municipalities, enterprises and the concerned organizations.
* The State of Maryland (U.S.A.), Liaoning Province (China), Odessa Region (Ukraine), the State of Baden-Württemberg (Germany), Kyonggi Province (South Korea), the City of the Gold Coast (Australia), the State of Penang (Malaysia), and the County of Västra Götaland (Sweden)