INDUSTRY AND ECONOMY
INDUSTRY
■ As there are many people living in a limited land area, Kana-gawa's primary industry including agriculture, forestry and fish-eries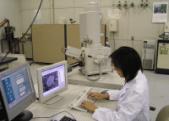 accounts for only a small part, 0.2%, of the gross prefec-tural product (FY '09). From a long time ago Kanagawa has been a highly industrialized prefecture. In particular, the east-ern coastal belt developed as one of the largest industrial zones in Japan, centering on the heavy and chemical industries.
The prefecture used to have an industrial structure heavily dependent on the manufacturing industry, such as electric machinery, chemical and transportation machinery. Recently, how-ever, the service industry has increased to 26.3% of the gross prefectural product (FY '09), compared with the manufacturing industry which makes up 15.7%. In the area of foreign trade, the international ports of Yokohama, Kawasaki and Yokosuka play major roles, with the Port of Yokohama ranked 4th in Japan in terms of import-export value.
Also, a large number of research and development institutes are concentrated in the pre-fecture, creating many high-technology industries.

ECONOMY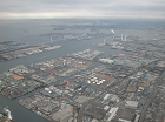 ■ Kanagawa's gross prefectural product is about 30 trillion yen (FY '09), or 6.2% of Japan's GDP. It is almost equal to the GDP of Denmark. Kanagawa Prefecture has served as the backbone for Japan's manufacturing industry with its advanced technologies built up over the years.
However, with the rapid advancement of economic globalization, there has been a hollowing of the economy, such as transfer of production bases overseas. Against this backdrop, efforts are
being made to promote investment by enterprises from both in and outside of Japan, and to vitalize the prefecture's industries and economy.
In Kanagawa, "sophistication of manufacturing" has been advancing, although a "service-oriented economy" has been also developing at a speed higher than that of the national average.